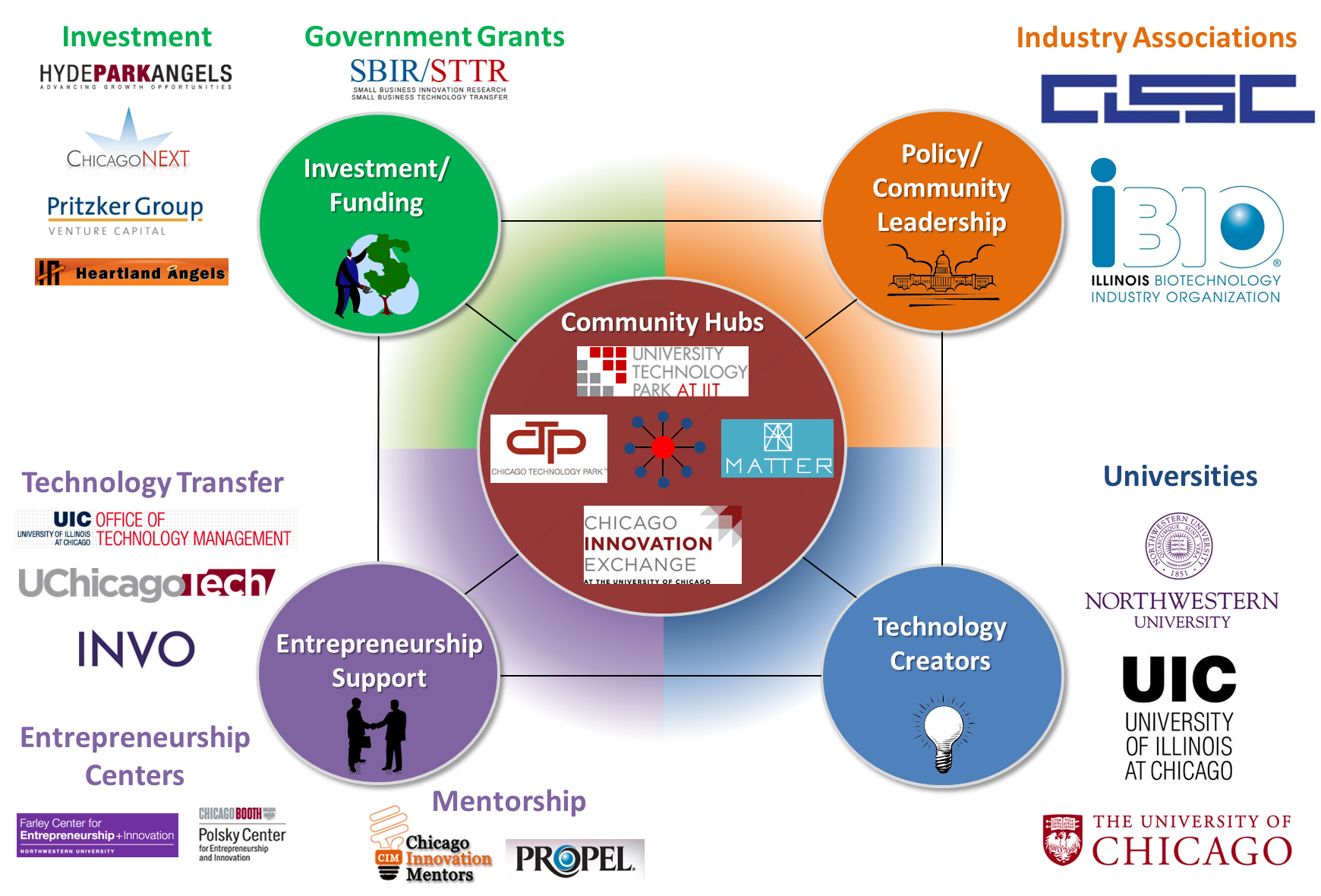 The city of Chicago and the state of Illinois has long been interested in cultivating and supporting a vibrant biotechnology sector. While attracting and retaining large biotechnology and pharmaceutical companies, such as Takeda Pharmaceuticals, Abbvie and Baxter Healthcare, is one part of this effort, supporting life science technology development from the ground up has also been a major focus. In fact, Chicago was one of the first areas of the country to create a biotech incubator with fully functional wet lab space when they opened the Chicago Technology Park (CTP) in 1985. Since then, the Second City has been looking to mirror other more established biotech communities/cultures, such as Boston or the San Francisco Bay area, in an effort to create an atmosphere of innovation and commercialization, often referred to as a biotechnology entrepreneurship "ecosystem". A timely example of such efforts is the recent announcement that Governor Pat Quinn, with the support of Mayor Rahm Emanuel, will be providing $2.5 million for the creation of the medical technology incubator/community hub MATTER, which will be housed in the Merchandise Mart directly next to the wildly successful digital startup space 1871.
So, what is a biotech entrepreneurship ecosystem and what does this landscape look like in Chicago?
In general, an entrepreneurship ecosystem should provide an environment where technologies and ideas can seamlessly travel down the path to commercialization. Fundamentally this requires (1) technology creators (such a University researchers), (2) communities which support the evaluation of the idea and the creation of a startup venture, (3) sources of funding to support the development and commercialization process, and (4) affordable space where budding startups can develop their products and conduct business (such as incubators). Additionally, these ecosystems are often supported at a high level by industry associations which provide leadership, an overarching vision for the community and lobby government at the state and national level to support the efforts of their local biotech community. Groups like the Illinois Biotechnology Industry Organization (iBIO) or the Chicago Life Sciences Consortium (CLSC) promote the creation of public and private initiatives to bolster the local biotechnology industry, such as the creation of incubators, the promotion of industry conferences and creation of angel investment tax incentives. An outline of these basic components which make up a biotech entrepreneurship ecosystem is shown above, with examples of the various organizations established in Chicago. This list is not meant to be exhaustive, but to give you an idea of how this complex environment is made up.
Ok, so those are some of the resources established to support local biotech innovation, but how does the commercialization process work?
Typically, most inventions and ideas develop as a result of research conducted at one of the three major Universities in Chicago. These inventions are managed by the University's Technology Transfer office and, if preliminary analyses confirm the commercial potential of the technology, they are either licensed to an established company or often a startup is formed. Startups then have a variety of entrepreneurship support organizations at their disposal, such as University run entrepreneurship centers or mentorship organizations like the Chicago Innovation Mentors (CIM) or the iBIO sponsored PROPEL. Additionally, a startup can apply for physical office space or wet/dry lab facilities at an affordable cost at a variety of biotech incubators in and directly surrounding the city. These spaces, which have more recently been referred to as med-tech community hubs, range in capabilities, are a place where entrepreneurship programming is offered and is where entrepreneurs, investors and professional service providers can meet, share insights and conduct business.
What opportunities are available within the greater biotech ecosystem for early stage scientists interested in entrepreneurship and biotechnology development?
As a scientist one obvious way of getting involved in the entrepreneurship scene is by commercialization your own invention or idea, however this is often not the case for the majority of researchers. On the other hand young scientists, such as graduate students and post-docs, have analytical and project based skill sets highly valued throughout the commercialization process. Technology Transfer offices are often in need of individuals to assist in the evaluation of disclosed technologies and sometimes actively seek out students with applicable backgrounds to participate in office projects. Additionally, organizations which provide mentorship to early stage startups may have positions for students and post-docs to carry out various tasks similar to a consultant on a volunteer basis. Indeed the Chicago Innovation Mentors has a Fellows program already in place for graduate students and post docs at the University of Chicago, and has plans to extend this program to other Universities. Finally, if you are interested in gaining biotech entrepreneurship experience try contacting a local startup company to volunteer services in exchange for meaningful professional development; list of companies and contact information can often be found on biotech incubator websites. If you are looking to get in at the ground level you can also look into business plan development or startup competitions, such as the University of Chicago's New Venture Challenge, where participants often seek out scientists to become a part of their teams. So whether you have a great idea or you are looking to learn more about biotechnology entrepreneurship, make sure to take advantage of the vibrant startup culture right at your doorstep.
By Daniel Leventhal